Dear Friends in Christ at Holy Spirit, St. Helen's, and St. Mary's,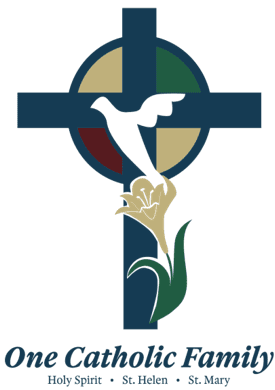 How fitting that as I have been writing about showing respect in church by the various positions we take during the Mass, that today we celebrate why we show that respect.

Think about it for a moment? What do we do whenever an important person enters the room or join our company? We acknowledge them by standing, expressing the proper protocol greeting, extending our hand, bowing (as in some cultures), and even at times playing a song of honor (i.e. Hail to the Chief).

Even when ordinary folk join us, we still greet them, offer some hospitality, and shake their hands.

These gestures are our signs of respect for the person, their office, and especially their presence with us.

Should we do no less for Our Lord Jesus, Christ the King? After all he gave his life for us. He has offered to remain with us until the end of time. He continues to intercede for us before his Father . He is our protector, our Savior, the Good Shepherd who ever guards and protects us.

Thus, we genuflect or at least bow profoundly when we enter a church. We stand for the Gospel because we are hearing directly from Jesus through the Evangelist who wrote down those words. Plus, they are really the Word of Our Father in heaven. We stand because we are Easter people (saved by the resurrection of Jesus). We kneel at times to humble ourselves before our Lord and Savior.

Christ the King Sunday is simply a reminder of all that Jesus did for us and to allow us to show our gratitude for the constancy of his love at work among us.

Viva Christo Rey! Long live Christ our King and Shepherd!
Fr Tom