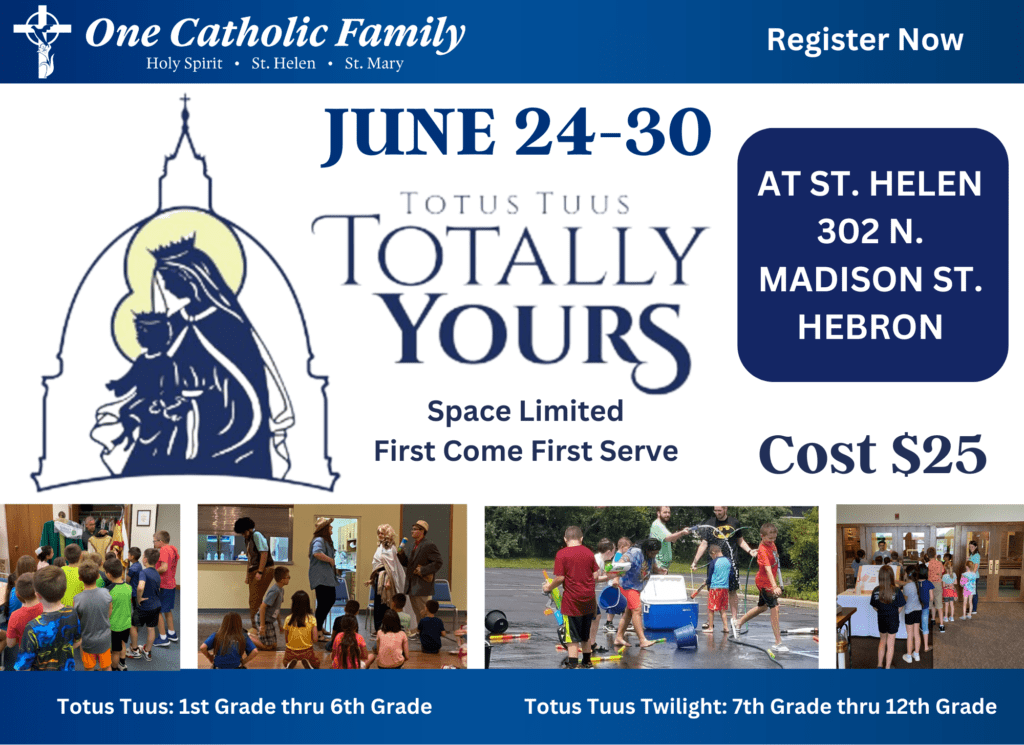 Registration Open
June 25th – June 30th for 1st-6th grade
June 24th – June 29th for 7th grade-High School
What is Totus Tuus? Totus Tuus means "Totally Yours", Totally Jesus'. Totus Tuus is a summer Catholic youth program for 1st grade through 12th grade. The week is dedicated to sharing the Gospel and promoting the Catholic Faith through fun activities. The mission of Totus Tuus is to inspire in young people a true longing for holiness, and a deep desire for a relationship with Jesus Christ.
Program Details
Cost $25 per child or/ $50 per family
Grade School Program
For students entering 1st through 6th grades in the fall
9:00 a.m.-2:30 p.m.
The Totus Tuus Grade School Program is designed for children entering first through sixth grades in the upcoming school year. The Grade School Program begins on Monday and concludes on Friday. Please pack a lunch for your child Monday thru Friday. Snacks, water, and juice will be provided.
Middle School/High School Program
For students entering grades 7th-12th in the fall
7:30 p.m.-9:30 p.m.
Totus Tuus offers an evening program for middle and high school youth. Middle school youth are those entering the 7th or 8th grades, and high school youth are those entering grades 9-12 for the upcoming school year. These grade levels meet Sunday through Thursday.
The middle school students will join the high school students for the evening program; however, their classes will remain separate to maintain an atmosphere and discussion level that is appropriate for both age groups.
CLICK HERE TO REGISTER VIA GOOGLE FORMS
PAYMENT MAY BE MADE ONLINE VIA Our Sunday Visitor or payments may be mailed to the parish or put in an envelope and placed in the collection basket at Mass. Please labels as Totus Tuus.
You may also download and print out the registration form by clicking here and then return it to your parish with your payment.